Li, Lamphun And Surroundings
There is a lot of beautiful nature surrounding Li (Map of Li).
We have a couple of waterfalls and the most famous one is located in the Mae Ping National Park (อุทยานแห่งชาติแม่ปิง) (Map) and the waterfall is called Ko Luang Waterfall (Video). More info: tourismthailand and mychiangmaitour.
Also many different exciting temples like Wat Phra Phutthabat Huai Tom (Map of the Huai Tom Temple). The Huai Tom temple is located in a Karen village with many different workshops and skilled workers with Bamboo, Cotton and Silver. Most of the Products are hand made and the knowledge and skills are amazing.
Cooking Class
Cooking class with Lek. Genuine Thai style vegan dishes. You can also experience amazing raw food options. Please let us know what you need and we will help you out.
800 baht for three dishes during the day - discount for big groups.
5-10 day whole day cooking class including accomodation 1.500 baht per day.
From compost to plant to kitchen to plate to compost experience (Cradle to cradle cycle).
#gardentotablefood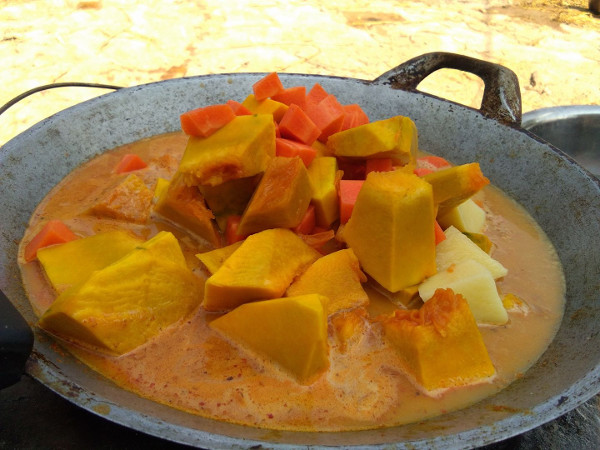 Coconut Bowl Workshop
Make your own coconut bowl.
Pick Your Own Soap Nuts
We explore the soap nut or washing nut tree area, where the soap nuts are available in large amounts.
Herb And Vegetable Hunting
Lek will show you around in Thai nature (the very frugile mountain 100% organic). The mushroom gathering in the mountain during the rainy season is very popular and also a great workout.
If you want you will also learn how to cook amazing Thai vegan food with the food you find and gather.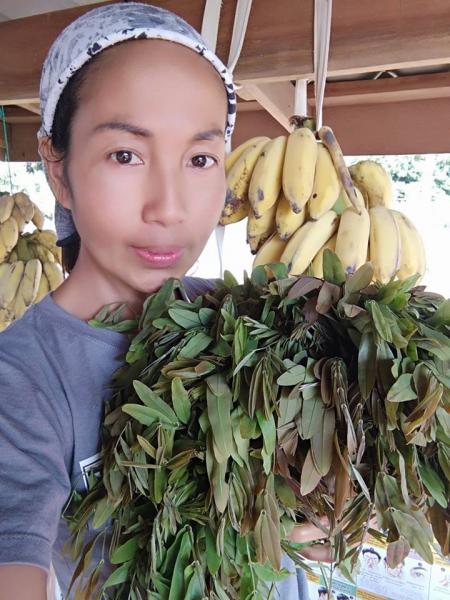 Bamboo Building Workshops
Bamboo soap holder:
Explore Amazing Fruit
Seasonal
Eat mango (May-June) or longan (July-August) from the tree.
All year 
Eat banana from the palm or papaya from the tree.
Fruit Hunting
You can find or buy high quality fruit in the local gardens, at the market or at the local fruit stands.
Local markets
Visit the daily local morning market, the big local Wednesday market, or the smaller local Saterday market, where the locals are selling, fruit, vegetables and many other things. This is your opportunity to buy something directly from the producers.
Cycling
Cycling trips to amazing waterfalls in incredible protected national parks, and other local attractions, local markets, temples, and local gardens and farms. You can see how bananas and other fruits are grown.
Visit the waterfall.
Do the famous Kasper Doi Inthanon XXL Loop among other cycling routes.
Visit the eco village and the vegan mountain people village.
Go to one of the many view points, including the white monk temple.
Gardening and Farming
You can plant your veggies and trees and see them grow.
See the village including local family fruit and greens hunting.
See the small land (primary crop date palms).
See the big land (primary crop longan).
Elder Care
If you need to relax and get new energy for your body, this is the right place. We will provide you with amazing fruit, food and relaxing yoga and Thai massage. Everything you need in nice and relaxing environment.
Contact us and tell us about your needs.
Yoga
Yoga Classes and instructions
200 baht per hour per person.
Patient Treatment
Cancer patients who are abandoned by the doctors are also welcome here. We practice The Gerson Therapy here in Northern Thailand.
Vegan Retreat
If you want to retreat from your busy daily life, here is a great opportunity to experience life in Thailand. We promise, you will have the time of your life - you just need to seize the day.
Meditation
We set up meditation sessions and other anti stress treatments.
Thai Herbal Steam Tent
When you breathe the healthy herb steam in the steam tent you will feel the natural herbal healing effect on your body.
350 baht per session.
Learn Thai
You can learn to speak Thai, this service costs 500 baht per hour. Booking required.
Thai Massage
Regular 300 baht per hour and 2 hand + 2 feet massage 700 baht per hour. Booking required.
In the supervision of Master Lek (Sirinath Katanyutawan) has 12 years of massage experience from Thailand and Serbia. She only massages with her feet because she was overstrained in her hard work.
Here is a small demo (2 Feet Plus 2 Hands (Thai Massage))
Another massage video:
Join The Development Of The Vegan Camp
The to-do list of the vegan camp. You can volunteer or join some simple tasks to learn and practice your Thai survival skills.