We grow our fruit and veggies without pesticides, fungicides, nor herbicides. We only spray occasionally with a mix of chilli and ginger to keep diseases and some bugs away. We practice some permaculture ideas in the garden and in the orchard. We mainly grow longan, nam dok mai mangoes, and many varieties of bananas and papaya.
Mango
Come and pick your own mangoes directly from the tree. We grow nam dok mai and a couple of other varieties. We will guide you when and which ones should be picked and you can enjoy them in our garden.
The season is from end of April until end of June.
Price range between 50-70 baht per kg.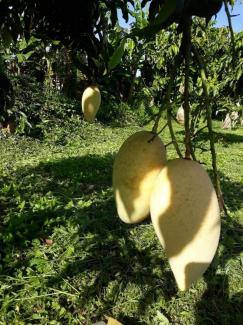 We are experts in making vegan ice desserts from frozen fruit. Here Lek prepares mangoes for freezing. We usually have them all year round.
Firmness of tree ripened mango:
Why do we want tree matured and tree ripened mangos?
Longan
The longan is a type of lychee, and is a very nice sweet fruit. If you want you can climb the trees to pick your own longan or pick it from the ground. We also have ladders.
The season is from end of July until end of August.
Price range between 40-50 baht per kg.
2018:
2017:
Rare Plum Mango
Season April.
Price range between 40-60 baht per kg.
Rare Giant Passionfruit
The giant passion fruit also known as giant granadilla.
We just started growing this fruit, so the season is uncertain. We just had a bunch of fruit here in april. Usual passionfruit season is August-Oktober. We also have an ordinary passionfruit dome with red and yellow passionfruit.
100-150 baht per kg.
Ordinary passionfruit 40 baht per kg.
Banana and Papaya
All year round.
Vegan Camp update March 2019
Vegan Camp update April 2018